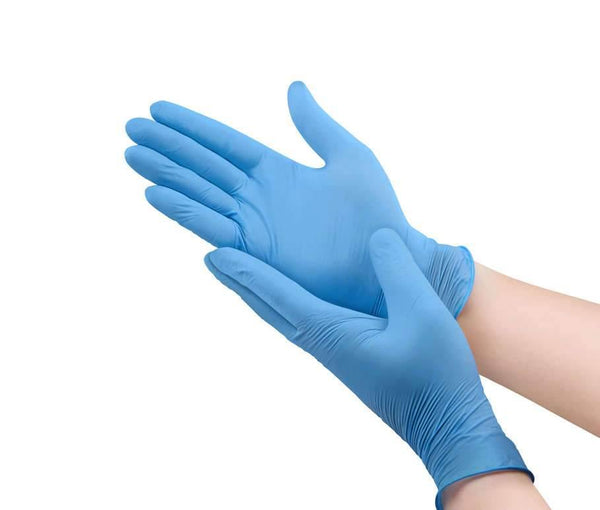 Description
CleanSafety®
Nitrile Blue Gloves (cases of 1,000)
4 MIL
Nitrile gloves are made by soft stretchy formula and new THIN technology. These gloves provide superb comfort feeling and dependable protection. These gloves offer the comfort feeling like latex gloves, meanwhile eliminated the risk of latex allergy. Features a finger textured surface for enhanced gripping in wet or dry conditions. Our gloves are made from 100% nitrile, a synthetic compound that is completely free of skin-irritating rubber proteins.
Between 3.5 -4 mill thick Blue Nitrile Gloves. 
CleanSafety® Nitrile offers all the benefits of a nitrile glove plus it's safe for use with chemotherapy drugs.
*These gloves comply with ASTM 5250 as Medical Examination Grade. According to ISO 2859, G-II, multiple sampling plan for normal inspection, AQL 1.5.
*These gloves are manufactured from materials which fully comply with FDA Rule 177.1950 for food contact and FDA rule 110.10 GMP for food handling.
*These gloves are manufactured with synthetic rubber which eliminates exposure to natural rubber and reduces the potential risk of a latex protein reaction.
*These gloves are ideal for jobs requiring exceptional tactile sensitivity.
| | |
| --- | --- |
| FEATURES | BENEFITS |
| Soft and Stretchy Formula | Excellent tactical sensitivity ad comfortable fit |
| Alternative to Latex (LATEX FREE) | Better chemical barriers than latex gloves |
| CHEMO drugs contact tested | Appropriate for handling cytotoxic chemicals |
| Textured surface on fingers | Ensures a safe grip, even in a wet environment |
| Manufactured without natural rubber    | Eliminates exposure to latex    |
| Powder-free | Eliminates aerosolization of glove powder |
| | | | | | |
| --- | --- | --- | --- | --- | --- |
| Order # | Size | Length | Palm Width | Gloves/Box | Boxes/Case |
| CS4200 | XS | 230mm | 70mm+/-5mm | 100 | 10 |
| CS4201 | S | 230mm | 80mm+/-5mm | 100 | 10 |
| CS4202 | M | 230mm | 95mm+/-5mm | 100 | 10 |
| CS4203 | L | 230mm | 110mm+/-5mm | 100 | 10 |
| CS4204 | XL | 230mm | 120mm+/-5mm | 100 | 10 |